Wildfire Danger
The wildfire danger is HIGH for the Slave Lake Forest Area.
A weak trough will move through the province today bringing showers and thundershower activity to the eastern sections of the boreal forest. Light winds will shift from the south to the west with the passage of the trough. Expect temperatures in the low 20 degrees as a high.
Use caution while working or recreating in the forested areas and report wildfires immediately by calling 310-FIRE.
Wildfire Situation
There have been no new wildfires in the last 24 hours
Wildfires of Note
SWF099 located 23 kilometres northeast of Chipewyan Lake is being held. Being held means under the current weather conditions and with the firefighting efforts that have been applied the wildfire is not expected to grow past predetermined boundaries.
The wildfire behaviour has diminished to shouldering. The fire did experience some growth on August 25, 2021 but it remains within the predetermined boundary. The wildfire remains at 5,960 hectares in size and firefighters are routinely monitoring it.
Since this wildfire occurs in a zone where it does not threaten communities or resources it is allowed to burn onto the landscape naturally under the watchful eye of experienced fire managers. Using this wildfire management strategy has many benefits; it re-introduces fire onto the landscape, creates a break in the continuous fuels, reduces the intensity of the fire providing safety zones for our firefighting crews to work from and reduces the cost of fighting these wildfires.
Click here to view map of SWF099.
SWF079, 083 and 114 are all under control and firefighters are monitoring these wildfires and completing reclamation work.
To view the wildfires on a map click here.
Since March 1st in the Slave Lake Forest Area, there have been 152 wildfires which have burned 6,284.01 hectares.
For more information on the current wildfire situation across the province of Alberta, visit wildfirestatus.alberta.ca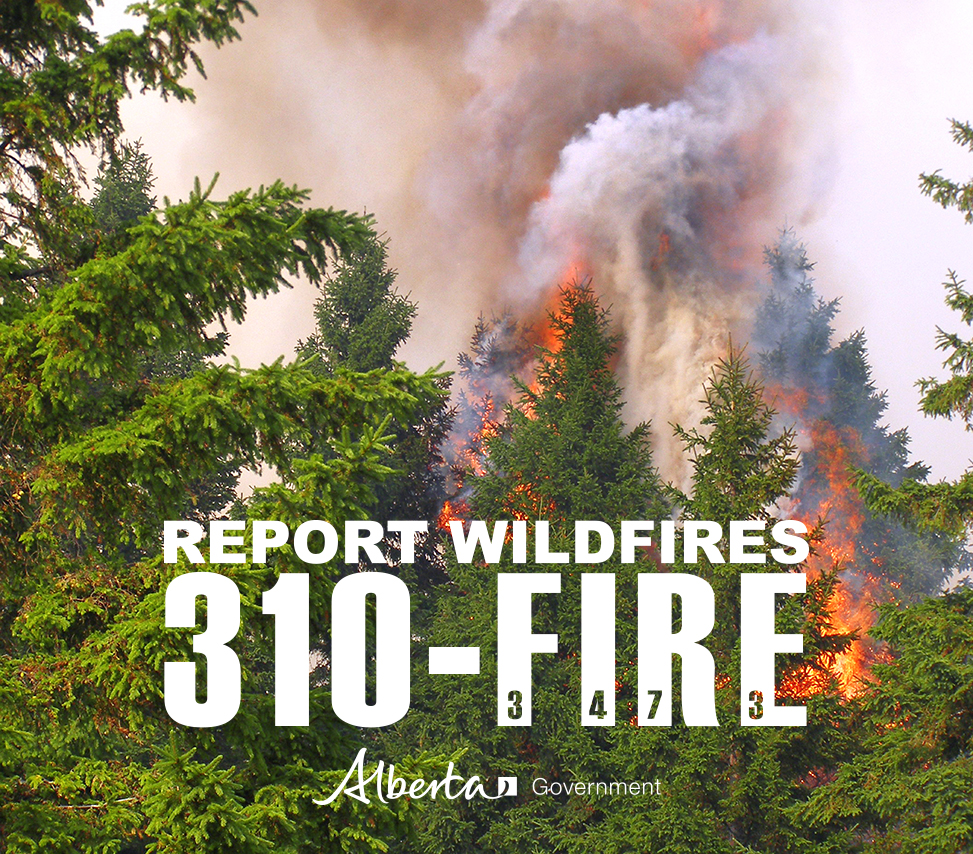 Fire Permits
From now until October 31st, a fire permit is required for any burning, except a campfire, in the Forest Protection Area of Alberta.
To request your free fire permit call your local Agriculture and Forestry office.
Red Earth/Slave Lake 780-849-7377
Wabasca 780-891-3860
High Prairie 780-523-6619
Fire permits help us to track what is burning on the landscape. If you're burning without a fire permit or outside of fire permit conditions, your fire is considered a wildfire. By getting a permit you help keep our firefighters free to fight real wildfires instead of responding to the smoke in your backyard.
Wildfire Information
Download the new app today and get access to accurate, real-time information on wildfires in your area. You can also find information on fire advisories, restrictions and bans across the province and much more.
Available for Apple and Android.
Before heading out, please check albertafirebans.ca to determine whether there are any fire advisories, fire restrictions or fire bans in effect for your destination.
Subscribe to the Slave Lake Forest Area Wildfire Update to receive an email when new information is posted.
Join the conversation on Facebook, Twitter or Instagram.
Updates are provided weekly when the wildfire danger is low to moderate and daily when the wildfire danger reaches high to extreme.
Unless conditions change you can expect your next wildfire update on August 28th, 2021.
If you have any questions please contact:
Wildfire Information Officer
Mobile:780-805-4607
Email: leah.lovequist@gov.ab.ca
RELATED INFORMATION
Websites: