Wildfire Danger
The wildfire danger is EXTREME in the Slave Lake Forest Area.
Under the hot and dry conditions a fire will ignite easily and spread quickly.
Firefighters urge everyone to use caution and report wildfires immediately by calling 310-FIRE or #FIRE on your cell phone.
The fire restriction remains in effect visit www.albertafirebans.ca to view a map of the affected area.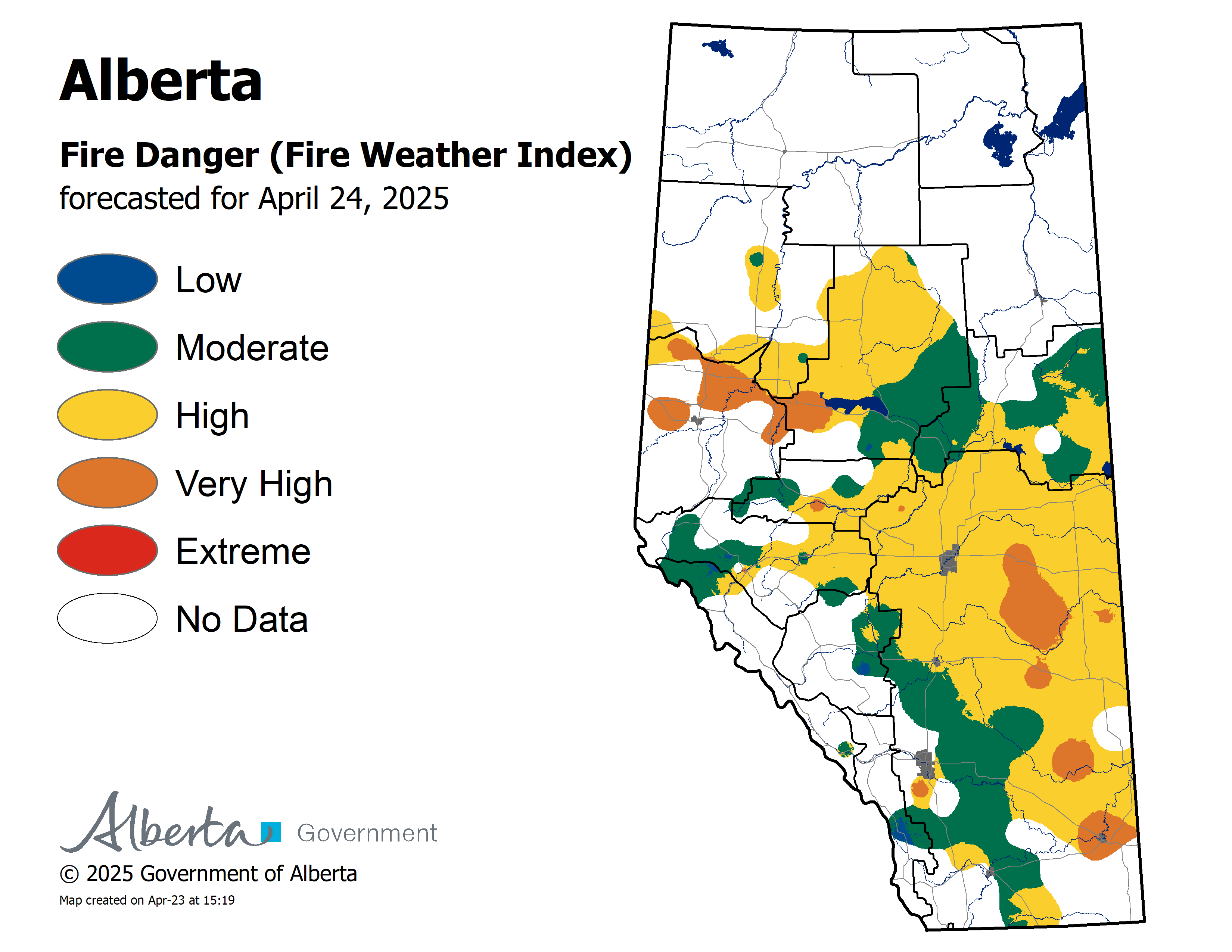 On Alert
Firefighters anticipate new wildfire starts due to the lightning that has occurred and the lightning expected today.
Fire lookouts are on high alert constantly watching for smoke and firefighters in helicopters, airtankers and heavy equipment are ready to respond.
Weather
For today the maximum temperature will be 26 degrees and winds will be from the northwest at 20 kilometers per hour. There is a risk of thundershowers with gusty winds and lightning.
Smoky Conditions
Smoke from wildfires in British Columbia has drifted into the Slave Lake Forest Area.
If you are experiencing respiratory difficulties as a result of the smoke, please visit Alberta Health Link or dial 811. Visit www.firesmoke.ca to view the most current smoke forecast.
Photo: Tree burning on SWF103 taken by Whitecourt Unit Crew.
Wildfire Situation
There were three new wildfires yesterday. All were small and caused by lightning from the day before.
From July 9th to July 14th there have been 35 wildfires and all but one were caused by lightning. Firefighters have made good progress on fighting these wildfires. As of 11:30 am today, 24 have been extinguished, 8 are under control, two are being held and one is being allowed to burn naturally with continuous monitoring.
To view the wildfires on a map click here.
SWF099 located 28 kilometres northeast of Chipewyan Lake is now being monitored by the Incident Management Team in the Fort McMurray Forest Area. If you have any questions regarding SWF099 please contact Fort McMurray Wildfire Information Officer Lynn Daina 780-799-9253.
The size of SWF099 will continue to increase over the next few days. Since this wildfire occurs in a zone where it does not threaten communities or resources it is allowed to burn onto the landscape naturally under the watchful eye of experienced fire managers. Using this wildfire management strategy has many benefits; it re-introduces fire onto the landscape, creates a break in the continuous fuels, reduces the intensity of the fire providing safety zones for our firefighting crews to work from and reduces the cost of fighting these wildfires.
Since March 1st in the Slave Lake Forest Area, there have been 113 wildfires which have burned 248.56 hectares. For information on the current wildfire situation across the province of Alberta, visit wildfirestatus.alberta.ca.
Fire Restriction
A fire restriction has been expanded to include most of the Forest Protection Area of Alberta due to hot and dry conditions and increased fire danger.
The fire restriction is in effect for the Edson, Fort McMurray, Grande Prairie, Lac La Biche, Peace River, Slave Lake and Whitecourt forest areas, as well as southern portions of the Calgary Forest Area.
Visit www.albertafirebans.ca to view a map of the affected area.
Under the fire restriction, you can have safe campfires in your backyard and in provincial or private campgrounds.
When having a campfire, keep it small, safe and always attended. When you are leaving your site or headed to bed, your campfire must be extinguished. Soak it, stir up the ashes, soak it again to ensure it is out.
Use of off-highway vehicles is also allowed. If you plan to use an OHV remember to stop often and check hot spots. Debris can heat up, drop to the ground and start a wildfire.
Prevent wildfires
Photo: SWF091 abandoned campfire found at a day use area north of Slave Lake on the afternoon of Sunday July 11.
On the afternoon of Sunday July 11th an off duty firefighter found an abandoned campfire in a day use area north of Slave Lake. The smouldering campfire was extinguished by firefighters in 10 minutes.
Firefighters want to remind everyone to take the time to put out your campfire before you leave.
When putting out your campfire:
Spread the embers within the fire pit, then add water or loose dirt and stir.

Expose any materials still burning, then add more water and stir again until you can no longer see smoke or steam.

Repeat until your campfire is cool to the touch. You should not be able to feel any heat from the ashes.
.
Wildfire Information
Download the new app today and get access to accurate, real-time information on wildfires in your area. You can also find information on fire advisories, restrictions and bans across the province and much more.
Available for Apple and Android.
Before heading out, please check albertafirebans.ca to determine whether there are any fire advisories, fire restrictions or fire bans in effect for your destination.
Subscribe to the Slave Lake Forest Area Wildfire Update to receive an email when new information is posted.
Join the conversation on Facebook, Twitter or Instagram.
Updates are provided weekly when the wildfire danger is low to moderate and daily when the wildfire danger reaches high to extreme.
Unless conditions change you can expect your next wildfire update July 16th, 2021.
If you have any questions please contact:
Leah Lovequist
Wildfire Information Officer
Mobile:780-849-0945
Email: leah.lovequist@gov.ab.ca
RELATED INFORMATION
Websites: