WILDFIRE DANGER
Hot, dry conditions elevate the wildfire danger to moderate in the Whitecourt Forest Area; as the dry conditions continue, the wildfire danger will continue to increase. Please take the time to prevent wildfires while out working or enjoying forested areas.
Passing thunderstorms are producing lightning, causing wildfires. Help firefighters by reporting smoke in the forest, call 310-FIRE (3473).
Image: Looking out over the forest, smoke can be seen along the horizon.
---
SMOKE IN THE AIR
Smoke continues to drift into the forest area from wildfires burning west of the forest area, in British Columbia, see the most current smoke forecast at firesmoke.ca.
If you are experiencing smoke related health concerns, visit Alberta Health Link or dial 811 for 24/7 health advice.
---
WILDFIRE SITUATION | Aug. 1, 2018, at 8:00 a.m.
Whitecourt Forest Area
In the last 24 hours, there have been zero wildfires in the Whitecourt Forest Area.
Since March 1, 2018, there have been 51 wildfires; with a total area burnt of 13.99 hectares.
Province of Alberta
There are 21 wildfires in the Forest Protection Area of Alberta.

Current wildfire status: 7 are being held, 10 are under control and 4 have been turned over to the responsible party.

Since March 1, 2018, Alberta has recorded 1,017 wildfires in the Forest Protection Area; with a total area burnt of 50,168.13 hectares.


Please note, the map on wildfirestatus.alberta.ca is currently experiencing technical difficulties and as a result, is not displaying the correct information. We are working to correct the issue as soon as possible. Thank you for your patience.
---
HELP PREVENT WILDFIRE
Clean your off-highway vehicle before, during and after your ride. Learn more.

Whenever possible, use a fire receptacle in campgrounds or recreation areas; they are built to help prevent a fire from spreading. If a receptacle is not available, there are campfire tips to prevent a wildfire. When having a campfire, never leave it unattended, and when finished, soak it, stir it, and soak it again. Learn more.
Before you go camping, or taking a vehicle off-road, find out about fire advisories, restrictions, bans, and off-highway vehicle restrictions at Albertafirebans.ca, or on the Alberta Fire Bans app for Android or Apple devices.
---
FIRE PERMITS ARE REQUIRED
Free fire permits are required for any burning (except campfires) within the Forest Protection Area of Alberta. Permits help firefighters know where planned burning is taking place, leaving them ready to respond to new wildfires.
If you need a fire permit in the Whitecourt Forest Area, call 780-778-7272.
If you burn without a permit, or outside of the permit conditions, your fire is a wildfire. Learn about violation tickets for burning without a permit.
---
FIRESMART
FireSmart is living with, and managing for wildfire on our landscape. Did you know a watered lawn is FireSmart? Learn more today at firesmartcanada.ca.
---
ALBERTA WILDFIRE INFORMATION
---
Unless conditions change, your next wildfire update will be August 2, 2018, at 2:00 p.m.
Shannon Stamabugh
Wildfire Information Officer
Phone: 780.706.5336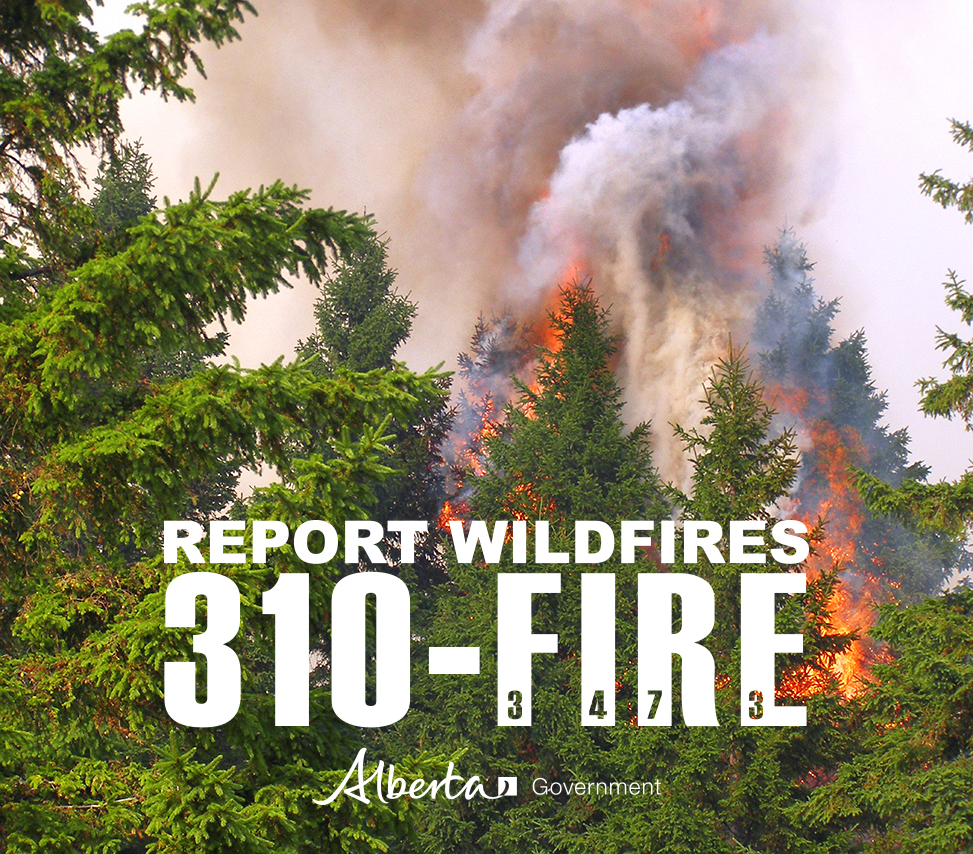 RELATED INFORMATION