Firefighters urge everyone to use caution when working or recreating in grassy areas and to report smoke or fire in the forest by calling 310-FIRE (3743).
---
HAZARD REDUCTION BURN - BLUE RIDGE AREA
A hazard reduction burn is planned for Saturday, April 23 and Sunday, April 24. This burn will be approximately 10.7 hectares in size and is located west of Blue Ridge Lumber in the Whitecourt Forest Area. All public roads and highways will remain open during the hazard reduction burn. Smoke will be visible from Highway 658 and from the hamlet of Blue Ridge. Minor delays may occur resulting from localized smoke concerns. Smoke notification signs will be in place along major roadways. The immediate area adjacent to the hazard reduction burn has a public access closure until the area is safe to enter.


A hazard reduction burn is a planned, controlled burning of high-hazard vegetation conducted by highly trained professional firefighters. These burns occur in lush grassy vegetation typically located along industrial right-of-ways and within the wildland urban interface surrounding communities. In preparation for this hazard reduction burn, municipal and provincial firefighters have planned extensively to ensure public safety. Burning will only begin when conditions are within the established burning prescription window. Firefighters will manage and monitor this burn until it's fully extinguished.
Goals:
Strategic removal of hazardous grass under the right of way to reduce the risk of wildfire
Reduce the risk of a wildfire igniting from the use of Off-Highway (OHV) / Utility vehicles (UHV) in the area
Increase firefighting training and cooperation between the Whitecourt Fire Department and Government of Alberta firefighters
Benefits:
Enhance community protection by safely removing high-risk areas of grass vegetation
Reinforce pre-planned wildfire containment lines surrounding the hamlet of Blue Ridge
---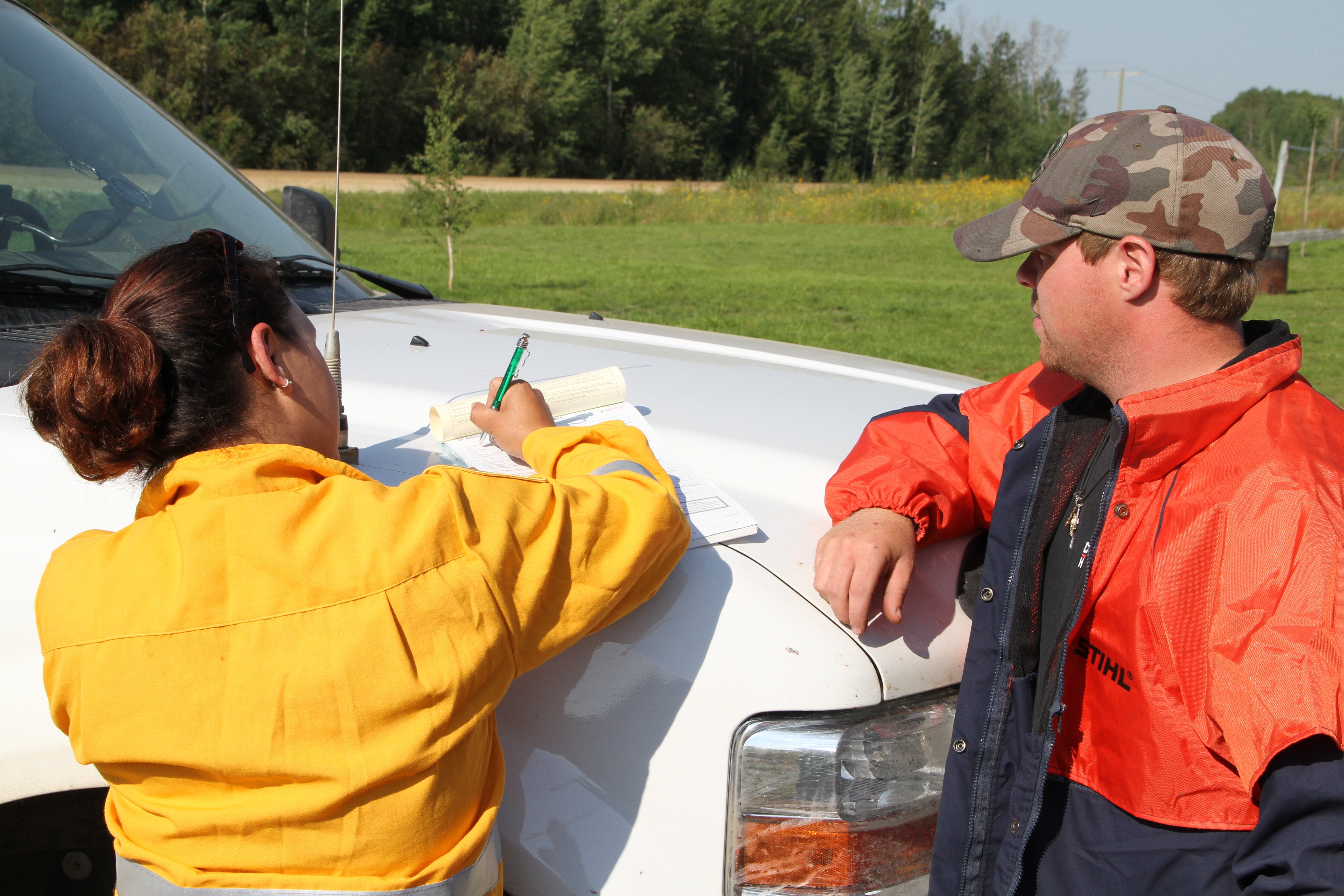 FIRE PERMITS
From March 1st to October 31st, a fire permit is required for any type of outdoor burning in the Forest Protection Area of Alberta with the exception of a campfire for cooking or warming.
Albertans living or recreating in the Forest Protection Area of the province can request a free fire permit using the new, convenient online fire permit portal. Fire permits can still be requested by contacting your local Alberta Agriculture, Forestry and Rural Economic Development office by calling 310-0000 or visiting wildfire.alberta.ca/prevention/fire-permits
Fire permits ensure safe burning practices and allow staff to know where burning has been approved, ensuring aircraft and firefighters are free to fight wildfires.
---
CAMPFIRE SAFETY
We urge everyone to use caution when working and recreating outdoors. Never leave your campfire unattended.
Soak it, stir it, soak it again.
Let the fire burn down before you plan on putting it out. Spread the embers within the fire pit, then add water or loose dirt, and stir.

Expose any material still burning. Add more water and stir again until you can no longer see smoke or steam. Do not bury your fire as the embers may continue to smoulder and can re-emerge as a wildfire.

Repeat until your campfire is cool to the touch.

If your fire is out, you should not be able to feel any heat from the ashes.
---
NEW ALBERTA WILDFIRE STATUS DASHBOARD
The new wildfire dashboard provides up-to-date wildfire information at the click of a button. This interactive tool displays important statistics on the number of active wildfires in the province, sizes, locations, suspected causes and more. The dashboard builds on the former wildfire status map by displaying the most frequently accessed information in one convenient location.
---
WILDFIRE INFORMATION
Download the Alberta Wildfire app today and get access to accurate, real-time information on wildfires in your area. You can also find information on fire advisories, restrictions and bans across the province and much more all on your mobile device.
Available for Apple and Android.
Before heading out, please check albertafirebans.ca to determine whether there are any fire advisories, fire restrictions or fire bans in effect for your destination.
---
Fire Permits
780-778-7166
General Information Related to Alberta Wildfire or Fire Bans, Restrictions, or Advisories
1-866-FYI-FIRE
General/Other Forestry Related Questions
780-778-7153
For more information, please contact:
Provincial Information Officer
Websites:
Social Media:

Apps: