Wildfire Danger
The wildfire danger is EXTREME in the Slave Lake Forest Area. Very warm temperatures and crossover conditions are expected again today. Crossover is when the temperature surpasses the relative humidity and when this occurs a fire will ignite easily and spread quickly.
Firefighters urge everyone to use caution and report wildfires immediately by calling 310-FIRE or #FIRE on your cell phone.
The fire restriction remains in effect visit www.albertafirebans.ca to view a map of the affected area.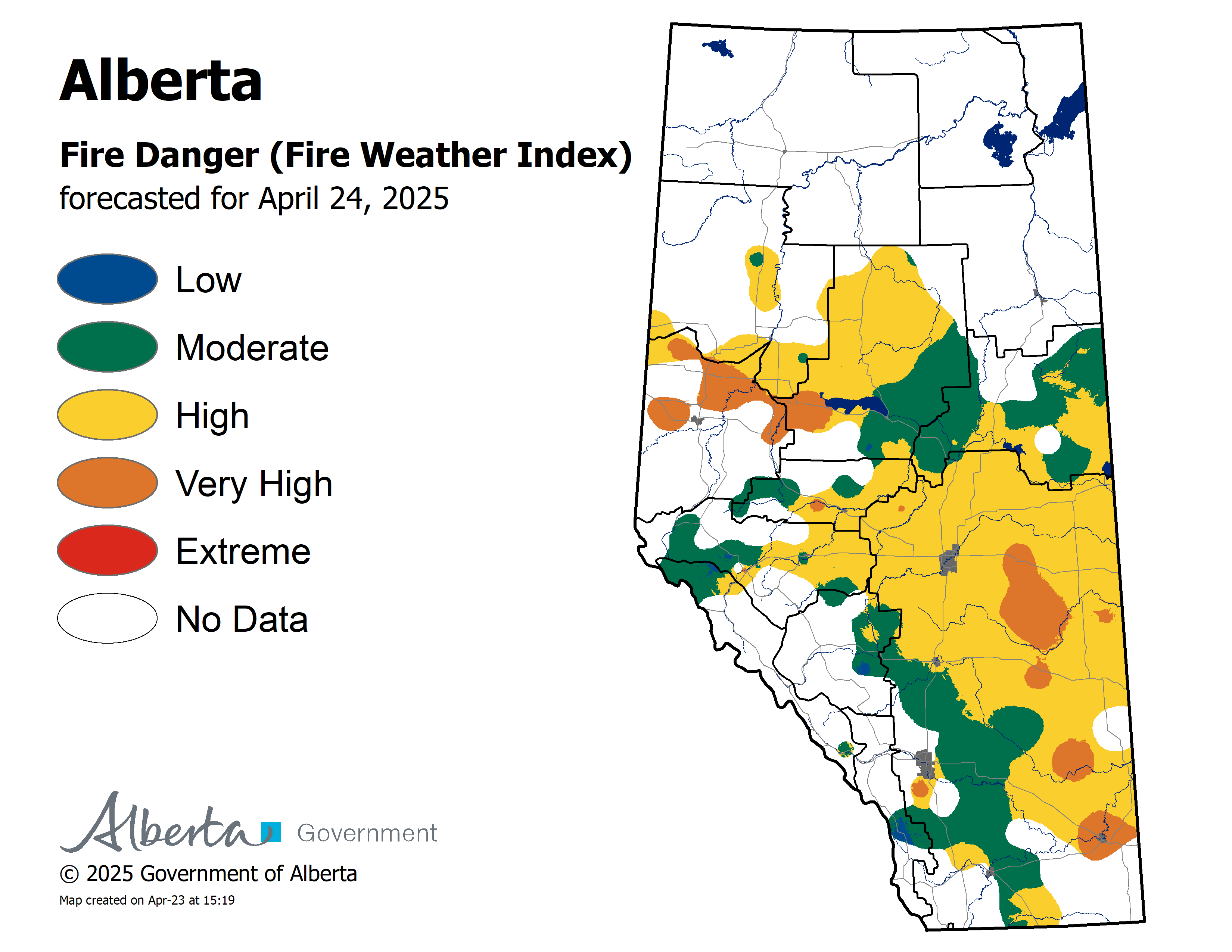 On Alert
Firefighters anticipate new wildfire starts as there is a chance of lightning today.
Fire lookouts are on high alert constantly watching for smoke and firefighters in helicopters, airtankers and heavy equipment are ready to respond.
Weather
For today the maximum temperature will be 33 degrees and winds will be from the southwest 10-15 kilometres per hour.
Smoky Conditions
Smoke from wildfires in British Columbia may drift into the Slave Lake Forest Area.
If you are experiencing respiratory difficulties as a result of the smoke, please visit Alberta Health Link or dial 811. Visit www.firesmoke.ca to view the most current smoke forecast.
Photo: SWF077 on July 7th at 2:30 pm. This wildfire is now being held. Being held means given the current weather conditions and firefighting efforts being applied, the wildfire is not anticipated to grow past expected boundaries.
Wildfire Situation
There were no new wildfires yesterday.
SWF077 located approximately 23 kilometres northwest of Chipeywan Lakes is under control and is 2.0 hectares in size. The caused of the wildfire was holdover lightning.
Since March 1st in the Slave Lake Forest Area, there have been 78 wildfires which have burned 108.78 hectares. For information on the current wildfire situation across the province of Alberta, visit wildfirestatus.alberta.ca.
Fire Restriction
The fire restriction has been expanded to include most of the Forest Protection Area of Alberta due to hot and dry conditions and increased fire danger.
The fire restriction is in effect for the Edson, Fort McMurray, Grande Prairie, Lac La Biche, Peace River, Slave Lake and Whitecourt forest areas. Visit www.albertafirebans.ca to view a map of the affected area.
Prevent wildfires
Under the fire restriction, you can have safe campfires in your backyard and in provincial or private campgrounds.
When having a campfire, keep it small, safe and always attended. When you are leaving your site or headed to bed, your campfire must be extinguished. Soak it, stir up the ashes, soak it again to ensure it is out.
Use of off-highway vehicles is also allowed. If you plan to use an OHV remember to stop often and check hot spots. Debris can heat up, drop to the ground and start a wildfire.
.
Wildfire Information
Download the new app today and get access to accurate, real-time information on wildfires in your area. You can also find information on fire advisories, restrictions and bans across the province and much more.
Available for Apple and Android.
Before heading out, please check albertafirebans.ca to determine whether there are any fire advisories, fire restrictions or fire bans in effect for your destination.
Subscribe to the Slave Lake Forest Area Wildfire Update to receive an email when new information is posted.
Join the conversation on Facebook, Twitter or Instagram.
Updates are provided weekly when the wildfire danger is low to moderate and daily when the wildfire danger reaches high to extreme.
Unless conditions change you can expect your next wildfire update July 10th, 2021.
If you have any questions please contact:
Jenn MacCormick
Wildfire Information Officer
Mobile:780-843-9296
Email: jennifer.maccormick@gov.ab.ca
RELATED INFORMATION
Websites: