The wildfire danger in the Lac La Biche Forest Area is LOW.
---
LAC LA BICHE WILDFIRE UPDATE
There are two active wildfires in the Lac La Biche Forest Area. Both of these wildfires are under control.
LWF-184 is under control at 500 hectares (ha) in size.
LWF-152 is under control at 86 ha in size.
Since March 1st there have been 197 wildfires in the Lac La Biche Forest Area, burning a total of 1,442 ha of forest.
For a map of all wildfire locations in the Lac La Biche and the province please check out the wildfire status map on the wildfire.alberta.ca website.
PROVINCIAL WILDFIRE UPDATE
Since March 1, 2021 there have been 1,218 wildfires in the Forest Protection Area of Alberta, burning a total of 52,860 ha.
---
OHV SAFETY
You can reduce the risk of your off-highway vehicle causing a wildfire by following these simple steps:
Before you ride, clean out hot spots and remove debris from your machine.

After riding through muskeg or tall grass, stop and remove any build-up from your machine.

Carry firefighting equipment such as a small shovel, collapsible pail or fire extinguisher.

Wash your quad, trike or bike and keep it clean; do not wash in streams and creeks.

Make sure your muffler and spark arrestor are working properly.

Stop frequently. Take the time to knock debris from your machine's hot spots. If the debris is smouldering, soak it, stir it, and soak it again to make sure it's out.
---
DOWNLOAD OUR NEW APP
Download the new Alberta Wildfire app today and get access to accurate, real-time information on wildfires in your area. You can also find information on fire advisories, restrictions and bans across the province and much more. Available for Apple and Android.
---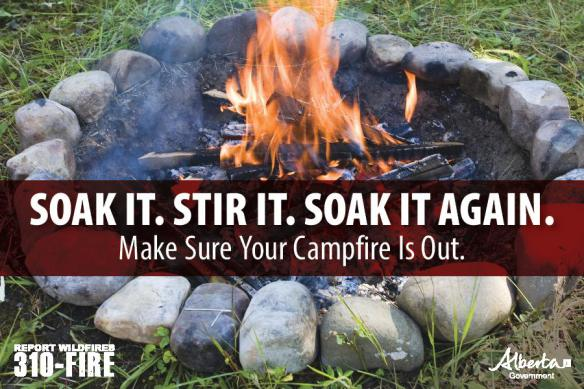 CAMPFIRE SAFETY
We urge everyone to use caution when working and recreating outdoors. Never leave your campfire unattended.
Soak It. Stir It. Soak It Again.
Let the fire burn down before you plan on putting it out. Spread the embers within the fire pit, then add water or loose dirt, and stir.

Expose any material still burning. Add more water and stir again until you can no longer see smoke or steam. Do not bury your fire as the embers may continue to smoulder and can re-emerge as a wildfire.

Repeat until your campfire is cool to the touch.

If your fire is out, you should not be able to feel any heat from the ashes.
---
For more information please contact:
Provincial Wildfire Information Officer
780-420-1968
Related Information
Websites:
Social Media:

Apps: