WHITECOURT FOREST AREA
The wildfire danger in the Whitecourt Forest Area is HIGH.
---
Whitecourt Forest Area Update
During wildfire season, you are required to have a fire permit if you plan on burning in the Forest Protection Area, with the exception of a campfire. To request your free fire permit, contact our permit line: (780) 778-7166.
If you see smoke or flame in the forest call 310-FIRE (3473).
For any fire advisories, restrictions, or bans please click on https://www.albertafirebans.ca/ for more information specific to your area.
---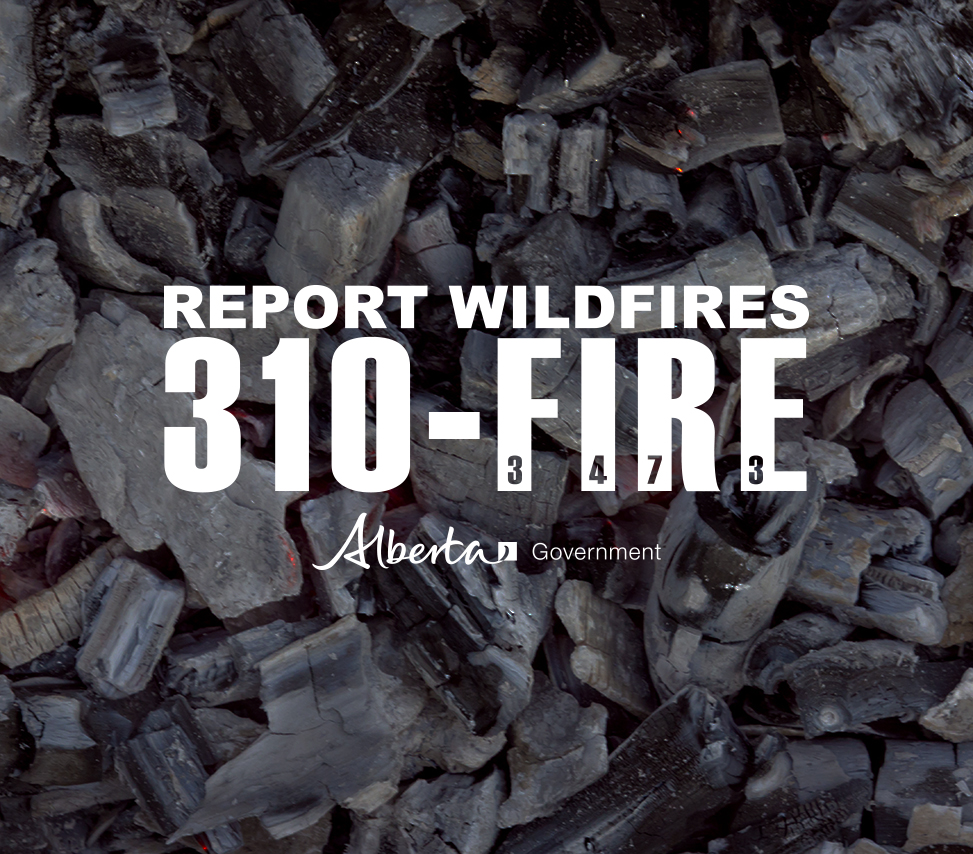 ---
PROVINCIAL WILDFIRE UPDATE
Since March 1, 2021, there have been 96 wildfires in the Whitecourt Forest Area, burning approximately 48.06 hectares. There were three previously reported wildfires that began before March 1, 2021, burning a total of 0.23 hectares. One wildfire is under control and 98 wildfires have been extinguished.
Since March 1, 2021, there have been 944 wildfires recorded in the Forest Protection Area of Alberta, burning a total of 48,060 hectares.
For more information on the current wildfire situation across the province of Alberta, visit wildfirestatus.alberta.ca
---
SMOKE RELATED HEALTH CONCERNS
Wildfire smoke drifting from other provinces will be affecting residents in our forest area. The smoke over our area is not produced by any current wildfires in Whitecourt. For those of you wondering what location the smoke is coming from, visit FireSmoke.ca. The service can produce forecasts of hourly ground-level concentrations of smoke from wildfires up to 48 hours in advance.
If you have smoke related health concerns, please contact Alberta 811 or visit their website by clicking here.
---
WILDFIRE EVENTS
Alberta Wildfire was invited to Treaty Days with Alexander First Nations this past weekend. Alberta Wildfire representatives got to meet with past and present contracted Firetack members, discuss FireSmart practices with residents, and provide visitors with wildfire information. It was a great day and thank you for having us! We hope to see you next year!
---
DOWNLOAD THE NEW ALBERTA WILDFIRE APP
Download the NEW Alberta Wildfire App to access provincial wildfire status maps and updates on your mobile device.
---
Fire Permits
780-778-7166
Reporting a Wildfire
310-FIRE (3473)
General Information Related to Alberta Wildfire or Fire Bans, Restrictions, or Advisories
1-866-FYI-FIRE
General/Other Forestry Related Questions
780-778-7153
For more information, please contact:
Colby Lachance
Wildfire Information Officer
Websites:
Social Media:

Apps: