WILDFIRE HAZARD UPDATE
The wildfire hazard is low in the Whitecourt Forest Area. Cool temperatures are helping to reduce the risk of a wildfire starting.
Please be aware that areas of dead, dry grass and leaf litter create a wildfire hazard. Please use extra caution in these areas, see helpful hints on how to prevent a wildfire below.
---
FIRE PERMITS REQUIRED UNTIL END OF WILDIRE SEASON (October 31)
A free fire permit is required for all burning (except for campfires) within the Forest Protection Area of Alberta. To get started, call:
Whitecourt

patrolman at 780-778-1590 or

Whitecourt

Fire

Centre

at 780-778-7272
A violation ticket of $287 can be issued for the failure to produce a fire permit when requested by a forest officer. For more information, visit fppa.alberta.ca.
---
DO YOUR PART TO PREVENT WILDFIRES
Under the Forest Prairie and Protection Act, new regulations are in place. If you are going to have a campfire, know that leaving a campfire unattended can result in a violation ticket of $287.
Completely extinguish the campfire before you leave it. Do this by soaking it, stirring it and soaking it again. You will know it's out when the ashes are cool to the touch. Learn more.

Image: Soak it, stir it, soak it again.
Off-highway vehicles can start wildfires if they are not kept clean of mud, grass, muskeg or leaves in the vehicles hotspots. Please take the time clean your machine responsibly. Learn more.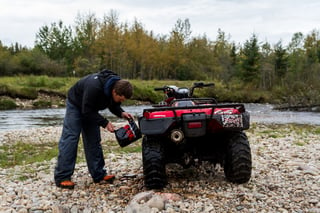 Image: Taking the time to clean the hotspots on an OHV; keeping wheels out of water.
---
Application deadline is November 30, 2017.
---
ALBERTA WILDFIRE INFORMATION WHEN YOU NEED IT
To get the wildfire hazard update anytime, any place, download the free Alberta Wildfire app for Android or Apple products.
Join the conversation on Facebook, Twitter or Instagram. You can also follow our blog.
---
To report a wildfire in the Forest Protection Area of Alberta, call 310-FIRE (3473).
Unless conditions change, your next wildfire update will be at 11:00 a.m. on October 19, 2017.
Shannon Stambaugh
Wildfire Information Officer
Whitecourt Forest Area
Phone: 780.706.5336
Email:
[email protected]