With snow and cold temperatures expected over the next several months, the wildfire danger in the Slave Lake Forest Area will be LOW.
---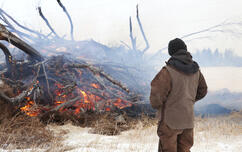 Brush Pile and Windrow Burning
Fire permits are not required for winter burning however, you are responsible for any fires you ignite and must ensure they are extinguished before the start of the 2019 wildfire season.
A fire left smouldering can continue to burn under the snow all winter long and re-emerge as a wildfire in the spring.
Follow these after burning tips to prevent wildfires this spring.
Spread remaining material within the pile and soak with water as required.
Check the area and ensure both heat and smoke are no longer being produced by the pile – it should be cool to the touch.
Check your burn site multiple times in the following weeks to ensure it has not reignited.
Please report your winter burn locations to Slave Lake Forest Area Wildfire Technologist Russell Murphy by calling 780-849-7457.
Click here for more information on winter burning.
---
Cutting your own Christmas Tree from Alberta's forests
The adventure of cutting your own tree is an inexpensive and enjoyable family activity. With a permit, you can get a tree from Alberta's Crown forest lands.
Permits are required for all cutting on Crown Land (includes firewood, all year round).
Each permit entitles you to cut a maximum of 3 trees, each under 2.5 m (8 ft) in height.
You must have your permit with you while cutting on Crown Land.
You must be at 18 years of age or older to purchase a permit.
Permits are valid for 30 days from the date of purchase.
Permits are $5.25 (includes GST).
Purchase your permit by filling out the online form.
Learn more about conditions for cutting a Christmas tree or temporary non-commercial timber permits.
---
Unless conditions change, you can expect your next wildfire update on January 7th, 2019.
If you have any questions please contact
Leah Lovequist
Wildfire Information Officer
Mobile: 780-849-0945
Email: Leah.Lovequist@gov.ab.ca
Keep up to date on the wildfire situation by subscribing to the Slave Lake Forest Area Wildfire Update or download the free Alberta Wildfire app for Apple or Android devices.