The wildfire danger is low in the Slave Lake Forest Area.
The forecast is calling for a chance of rain/snow and above zero daytime temperatures for the weekend. The winds today and Saturday are expected to be strong and gusty.
March 13, 2021 Abandoned campfire in the Flat Top area.
The first wildfire of the season was found in the Flat Top area, near Slave Lake last weekend. An off-duty wildland firefighter recreating in the area found a campfire which was left smouldering.
Even with snow on the ground it is important to extinguish your campfire. A campfire left smouldering can burn into the ground and re-emerge as a wildfire in the spring when conditions are dry.
The fine for an abandoned campfire is $600, as well anyone found responsible for starting a wildfire may go to court to face additional charges and fines.
Follow these tips on how to properly extinguish a campfire:
Let the fire burn down before you plan to extinguish it. Spread the embers within the fire pit, then add water or loose dirt and stir.

Expose any materials still burning, then add more water and stir again until you can no longer see smoke or steam. Do not bury your campfire, as the embers may continue to smolder and can re-emerge as a wildfire.

Repeat until your campfire is cool to the touch. You should not be able to feel any heat from the ashes.
Firefighters thank you for doing your part to prevent wildfires.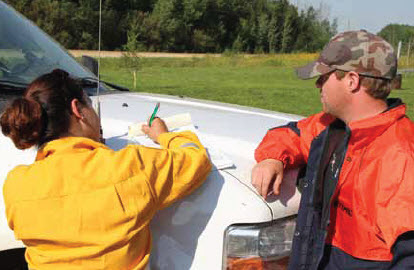 Fire Permits
From now until October 31st, a fire permit is required for any burning, except a campfire, in the Forest Protection Area of Alberta.
To request your free fire permit call your local Agriculture and Forestry office.
Red Earth/Slave Lake 780-849-7377
Wabasca 780-891-3860
High Prairie 780-523-6619
Fire permits help us to track what is burning on the landscape. If you're burning without a fire permit or outside fire permit conditions, your fire is considered a wildfire. By getting a permit you help keep our firefighters free to fight real wildfires instead of responding to the smoke in your backyard.
Unless conditions change you can expect your next wildfire update on March 26th, 2021.
If you have any questions please contact:
Leah Lovequist
Wildfire Information Officer
Mobile:780-849-0945
Email:Leah.Lovequist@gov.ab.ca
RELATED INFORMATION
Websites: