The recent sunny, dry and warm weather is contributing to an increased fire hazard for the region. The current wildfire hazard for the Grande Prairie region is MODERATE. While some parts of the region have received significant rainfall with recent storms other areas have not received the same amounts. This is important to remember as you may be heading out camping or recreating in forested areas this weekend that could be experiencing significantly drier conditions. Please do your part to prevent wildfires this long weekend.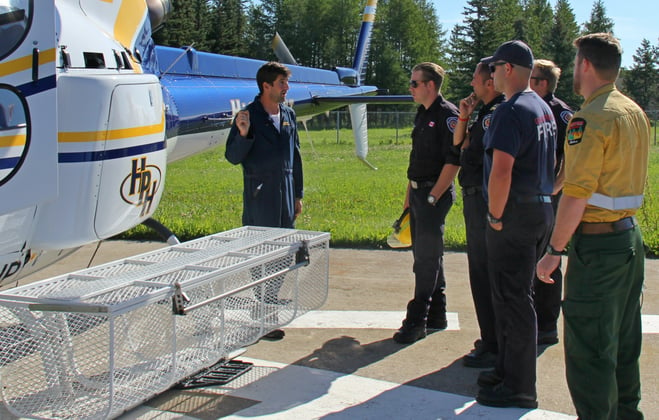 City of Grande Prairie firefighters participate in a helicopter training exercise with Forestry staff earlier this week
So far this season there have been 64 fires in the Grande Prairie forest area that have burned a total of 138.54 hectares. If you spot smoke or fire in forested areas call 310-FIRE immediately to report it.
Off-Highway vehicle exhausts are extremely hot, and can quickly reach temperatures of over 200 Celsius. These temperatures can dry out even wet, muddy debris quickly. This smouldering debris can potentially start a wildfire when it drops from the vehicle into dry grass.
You can prevent this by stopping regularly to clean off any debris that has built up near the exhaust and muffler, under the seat, in wheel wells and around the engine. Carry a small extinguisher or a bucket and collapsible shovel to ensure that any hot debris is completely extinguished before you leave it.
Ride debris free and lower your risk of starting a wildfire.
SOAK IT, STIR IT, SOAK IT AGAIN
Never leave a campfire before it is completely out. Campfire safety is particularly important at this time of year. Even if you are just going for a short hike – soak it, stir it, soak it again. If you can still feel heat coming from the ashes then the fire is not extinguished.
If you are camping this weekend use an existing campfire facility whenever possible. Most campsites have stoves, fire rings, or fire pits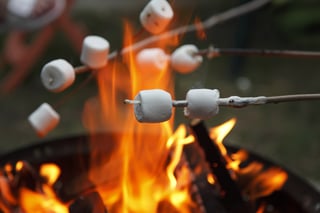 provided for your convenience and safety.
If no campfire facilities are available then you can follow a few easy guidelines to help make your campfire safe. Start by building your campfire on level ground away from any dry grass, heavy bush, leaves, logs, tree trunks, peat areas and overhanging branches. Dig or scrape a pit down to mineral soil and surround it with rocks, gravel or sand. If a water source is not readily available then keep a large bucket on hand with enough water to extinguish your fire should it start to spread.
Have a fun and safe long weekend!
For more information contact:
Melinda Paplawski | Wildfire Information Officer
Grande Prairie Forest Area
Melinda.Paplawski@gov.ab.ca
(780) 933-1929