The Grande Prairie Wildfire Management area has recorded 61 wildfires with a total of 181 hectares burned since wildfire season began April 1. Currently, one fire is listed as under control; all others are extinguished.
The wildfire located 50 kilometres south of Grande Prairie and approximately 80 hectares in size is listed as under control, firefighters do continue to work in the area along Highway 40. Please obey posted speed limits to allow our firefighters to do their job safely.
Recent gusty winds and warmer conditions will continue to increase the potential for wildfire events in the area. Please take extra caution when working or recreating in the area.

Permit conditions state that lighting a fire with sustained wind over 12km/hr is not permitted. Any fire started in these conditions will be difficult to control. Remember that you must evaluate the weather at your specific location. You can be held responsible if a fire escapes the burn permit area.
To get a permit contact your local forestry office. For a permit contact: Spirit River (780) 814-1983 Valleyview (780) 524-6576 County West & Grovedale (780) 814-1648 or call your local forestry office (780) 538-5560
Campfire Safety
All it takes is one spark for things to go wrong. An abandoned campfire or a campfire built without safe clearance can turn a small fire into a fast moving wildfire. Enjoy a safe campfire this long weekend by following these tips:
Build a fire where they will not spread; well away from tents, trailers, dry grass and over hanging branches
Keep campfires to a small manageable size
Soak it, stir it and soak it again. A fire isn't completely out until you can touch it with your bare hand. Keep plenty of water on hand and a shovel to stir it up.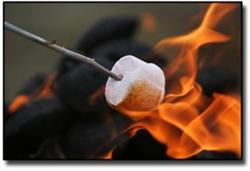 Current wildfire information
Fire ban information
Fire ban system
For more Information contact:
Kelly Burke
| Wildfire Information Officer
780-538-5327

(office) |

780-832-7235

(mobile)